"This is an amazing story of courage and sacrifice. I'm almost at a loss for words. Every God-fearing American ought to read this. It'll get your heart pounding and you'll be forever grateful for the men and women who keep this country safe, including American hero Danny Lane."

Jason Hanson former CIA Officer, author of the New York Times Best Seller, "Spy Secrets that Can Save Your Life"
Some Gave It All
An Exciting Landmark Piece of History by Danny Lane & Mark Bowser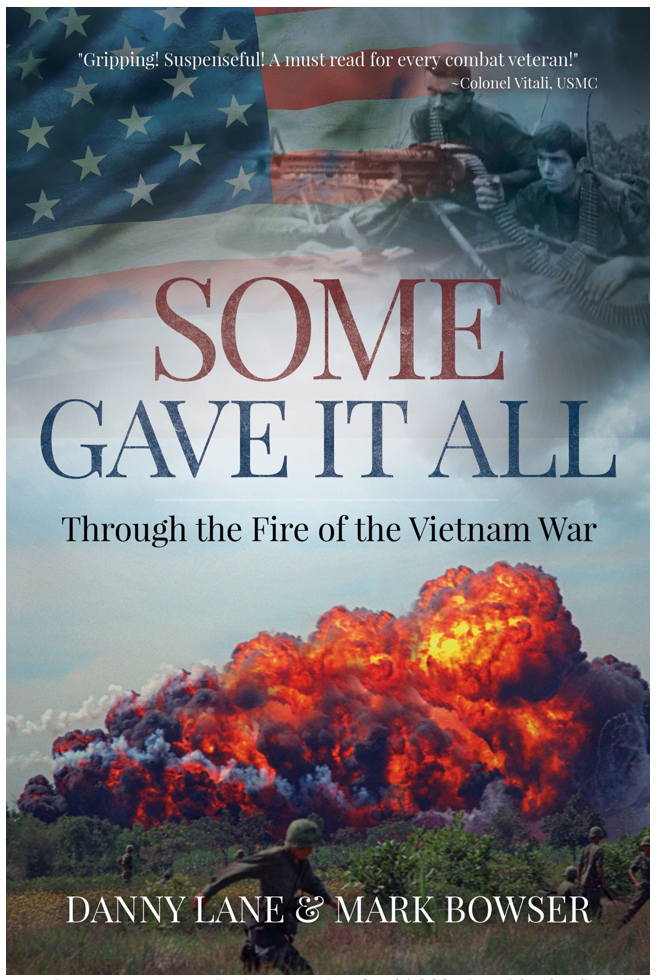 ($16.99 plus Shipping/Handling)
The Sound was deafening in its silence. It's not that he was alone — there were many people within a few feet of him…But, it was the aloneness of his thoughts. Just two days ago, Danny Lane was stateside, and now he was in Vietnam. It was November 20, 1968, and Danny and his fellow Marines sat on the cold, wet tarmac in full combat gear. In a matter of moments, life for Danny would change forever…
Some Gave It All is the riveting account of Danny Lane and his squad of young Marines as they battled the Viet Cong and the stinging, delirious cold sweat of fear that hung persistently over the jungle canopy. How much can a person take…before they break? Join Danny in the jungles of Vietnam and the jungles of his own mind as he dealt with the ravages of war…and what he had to do just to survive.
"The amazing thing is that it is a true story. Some Gave It All grabbed me from the first paragraph and wouldn't let go until the last."

Pat Williams, Orlando Magic Senior Vice President, Author of THE SUCCESS INTERSECTION
Grab your copy of Some Gave it All today…get yourself a cup of coffee, sit down, and relax. But you had better buckle your seat belt because you are about to enter a roller coaster of adventure and drama like you have never experienced before.
($16.99 plus Shipping/Handling)
What People Are Saying About
Some Gave It All by
Danny Lane & Mark Bowser
"Danny Lane is an American warrior in both war and peace. "Some Gave it All "is a must read for anyone who wants the real skinny on the brotherhood of combat. Civilians as well as veterans will find themselves mesmerized and brought into the action like never before".

John Ligato- Vietnam Combat Marine (Survivor of Hue, 3 Purple Hearts), Retired FBI Special Agent, successful author of the John Booker Series "The Dirty Boys" & "The Near Enemy".
"This is an amazing story of courage and sacrifice. I'm almost at a loss for words. Every God-fearing American ought to read this. It'll get your heart pounding and you'll be forever grateful for the men and women who keep this country safe, including American hero Danny Lane. I am proud to have him on my staff as a combat tactics instructor".

Jason Hanson former CIA Officer, author of the New York Times Best Seller, "Spy Secrets that Can Save Your Life", CEO of Spy Escape & Evasion Personal Protection Company.
"Danny, the legacy of the Marine Corps is enriched future by what you have written but more importantly by what you did for this great nation. As a Marine, I thank you for your story and your great service to our country. I admire how you stood the faith with God, the Marine Corps, and America during the most agonizing and painful times that no one ever would want to endure. The more I read the better the story line went and the more immersed I became".

Colonel Steven B. Vitali USMC (Ret)
Some Gave it All …is a brutally powerful, inspiring depiction of sacrifice, honor and faith of a young Marine in the abyss of the Vietnam War. It reads like an action movie I would love to direct.

Art Camacho – Award Winning Motion Picture Director
­­"Some Gave All is a stirring story of service in Vietnam by a Unites States Marine and that Marine dealing with post-traumatic stress disorder following the war. It is extremely well-written and does a tremendous job of balancing the action of war with the human interest aspect of coping with horrors of war. The book captures the reader's attention from the opening sentence and holds it throughout the entire book. As a former enlisted Marine and current Army Lt. Colonel, I enjoyed the battle action as well as the insight into the military strategy that was aptly depicted in the book. As a physician, I was captivated by the post-war story of a hero dealing with PTSD and coping with the horrors he had seen 40 year previously. Some gave All
is a fitting tribute to America's "forgotten war" and to those that served who will never forget it".

Colonel Scott M. Hovis, Lt. Colonel US Army MD
"As I read Danny's story in Some Gave It All it made me feel as though I could see what Danny was seeing. Danny was one of the lucky ones making it home, but it is obvious that his sacrifice tremendous and something was left in the jungle. Thank you for telling your story, no doubt it will help shed light on the reality that is war. Danny Lane is a true American Warrior and hero".

Robert Mclean, Federal Air Marshal
"Through the fire of the Vietnam War, Danny Lane became a leader. He has always pushed beyond the limits of greatness his whole life. "Some Gave it All" reminds us of the courage and sacrifice our young men and women make for our country. Danny's incredible story of war and the aftermath should be read by all veterans of all wars. I felt like I was in the action from the first page through the end. What a read"!

Bill Hall, Retired Federal Air Marshal and Former World Rated Kickboxer – Author of Predator Group
"Heroism is complicated. Some Gave It All, looks at several perspectives; From the inside the soul of those who serve and the lives that are affected by their actions. Mark Bowser and Danny Lane paint a picture with their style and word selection that draws you into the changes and feelings of all. There is something there for each of us to learn from."

Julie Ann Sullivan, Speaker, Trainer, Podcaster
I just finished reading your manuscript "Some Gave it All" yesterday. I was truly moved by your story. It hurled me back in time and was very emotional for me. I feel it was very well written and I couldn't put it down until I finished. Your story showed so much compassion and struggle within yourself for all around you, whether friend or enemy. I appreciate your courage, your love of country and your love for your fellow soldiers, especially your love and caring for husband, Sotere.

Sophia Karas
"Some Gave It All shows the horror of war and the emotional toll and recovery of a real American hero, Danny Lane. Without brave Marines like Danny Lane we would not be free. After reading this book, I will never forget that."

Lee Cockerell, Executive Vice President (Retired and Inspired), Walt Disney World®Resort and best-selling author of Creating Magic, The Customer Rules, Time Management Magic and Career Magic.
"Some Gave it All" keeps you on the edge of your seat! The action is non-stop and Danny's struggle to survive is gripping and intense. Danny was a hell of a cop. I loved working with him and knew when going through a door together he always had my back.

Richard Kemp – ATF Resident in Charge (Alcohol Tobacco and Firearms) Special Federal Agent (retired)
"So many of us have never had to experience the horrors of war, or the hurdles of returning to a normal life afterward. This really gave me new appreciation for the sacrifices these soldiers made for us. Danny's story of his combat in Vietnam is told in visceral, gripping detail with moment-to-moment suspense. Mark Bower's narrative keeps you guessing as he bounces between modern day and wartime, even throwing some twists at you that you won't expect."

Cory Edwards, Writer / Director, "Hoodwinked"
"A great story that I can relate too. As a retired US Marine of 20yrs, after 2 combat tours in Iraq (Fallujah and Rahmadi) and Afghanistan, I too have been there, walking through hell during the day and dancing with the devil at night. Wondering everyday if the enemy has your number. Seeing your brothers getting wasted by sniper fire and then having it escalate into a complex attack. Love the excerpt and waiting for the book! Semper Fi!"

Staff Sergeant James Nunguesser decorated USMC combat veteran (retired)
"Danny Lane and Mark Bowser have written an exciting roller coaster of an adventure. The amazing thing is that it is a true story. Some Gave It All grabbed me from the first paragraph and wouldn't let go until the last word."

Pat Williams, Orlando Magic Senior Vice President, Author of THE SUCCESS INTERSECTION
($16.99 plus Shipping/Handling)
About the Authors
Danny Lane
Danny Lane is a highly decorated US Marine serving in combat in Vietnam in 1968-1970. He received two Purple Hearts, the Marine Combat Action Medal and numerous other commendations for his bravery and sacrifice.

He is a retired Police Officer where he worked as a Major Crimes Detective, Tactical Unit, SWAT, Police Tactics Instructor, Drug Task Force and Uniformed Patrol.

Danny is a 9th Degree Black Belt Master in martial arts and has personally trained with Chuck Norris for thirty eight years. He is a world and 9 time national champion and has been inducted into various martial arts Hall of Fames 12 times.

He is a certified International Police Defensive Tactics Instructor and an expert in Police and Military Defensive Tactics. He is a former bodyguard to movie stars and corporate VIPS where he worked in Manhattan for several years guarding his clients from all sorts of dangers including the mob.

Danny is the co-author of Spy Combat Tactics with former CIA Agent Jason Hanson and the author of twenty nine self-defense training videos (see www.DannyLane.com)

Danny still teaches defensive tactics to law enforcement, military and the general public all around the world. Besides writing, he currently works high profile criminal, civil, and domestic cases as a Private Investigator with his beautiful wife, Gina.
Mark Bowser
Mark Bowser is an author of multiple books and is one of the top Professional Business Speakers in the United States today. He has presented prestigious seminars for many organizations including Southwest Airlines, United States Marine Corps, Princeton University, Kings Daughters Medical Center, Purdue University, Ford Motor Company, United States Air Force, and many more. His books include Sales Success which he wrote with Zig Ziglar, Jesus, Take the Wheel, and Unlocking the Champion Within. Mark lives in the Cincinnati area with his wife and three children.

($16.99 plus Shipping/Handling)